How to Apply for a U.S. Passport
*Important Information for All Students*
Your passport
must be valid for at least 6 months beyond the

end date

of your program
(or any planned travel). If you already have a passport, check now to see if you need to renew it before the start of your study abroad program.
While the International Programs staff will provide passport guidance where possible, it is your (the student's) responsibility to possess a valid passport in order to study abroad.
When should I apply for a passport?
Right now! Due to delays caused by the COVID-19 pandemic, standard processing for new and renewed passports is estimated at 8-11 weeks, which does not include mailing and receiving times (it can take upwards of a month for your passport to reach the processing center and be marked as received). Your application can be expedited within 5-7 weeks if you are willing and able to pay extra. Once issued, your passport will then be valid for 10 years in most cases.

Please note that certain times of the year see more passport applications than others, so be sure to check the U.S. Department of State's current processing times and guidelines.

Can I get help with the application?



How to apply for a U.S. passport:

Most students applying for a new passport will need to complete and submit Form DS-11, the application for passport, including those who have a minor passport (issued to you when you were under 16) and are now applying as an adult.

The completed Form DS-11 can be uploaded to your application in place of your passport, so make sure to save a copy of the PDF before you submit it.


Step 2 - Collect supporting documents.
To prove your eligibility for a U.S. passport, you will need to supply an original, certified document illustrating U.S. citizenship, as well as a legible copy of that document. Here are a few examples of acceptable documentation:
Fully valid, undamaged U.S. passport (may be expired)
U.S. birth certificate that meets the following requirements:

Issued by the city, county, or state of birth
Lists your full name, date of birth, and place of birth
Lists your parent('s') full names
Has the date filed with registrar's office (must be within one year of birth)
Has the registrar's signature
Has the seal of the issuing authority

Consular Report of Birth Abroad or Certification of Birth
Certificate of Naturalization
Certificate of Citizenship


Step 3 - Get your passport-style photo.
Where can I get my passport photo taken?
You can have your passport photo taken at a variety of locations. Some of the U.S. post offices which issue passports may be able to take your photo (you will need to confirm this with them when you make your appointment). You may also have your photo taken at large pharmacies, like the CVS down the street from Hollins.

Keep in mind you may need extra copies for other travel documents, such as visas, so getting more than one copy may be advantageous. You should also be sure to review the rules for passport photos before going to have your picture taken. The person taking your photo should know all of the rules, but it's better to know the rules yourself to ensure an acceptable photo is taken.

What are the rules for my photo?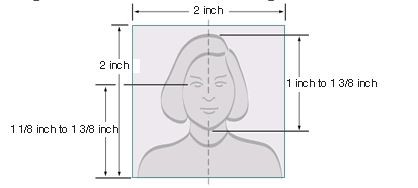 You must provide one photo with your application, which will be used on the identification page of your passport once it's been issued.
The processing of your passport application may be delayed if you do not submit a photo that meets Department of State requirements. There are a number of specific guidelines all photos must follow regarding dimension, composition, lighting and other elements.
DoS provides these guidelines, examples and answers to frequently asked questions on their
Passport Photos page.



Step 4 - Pay fees.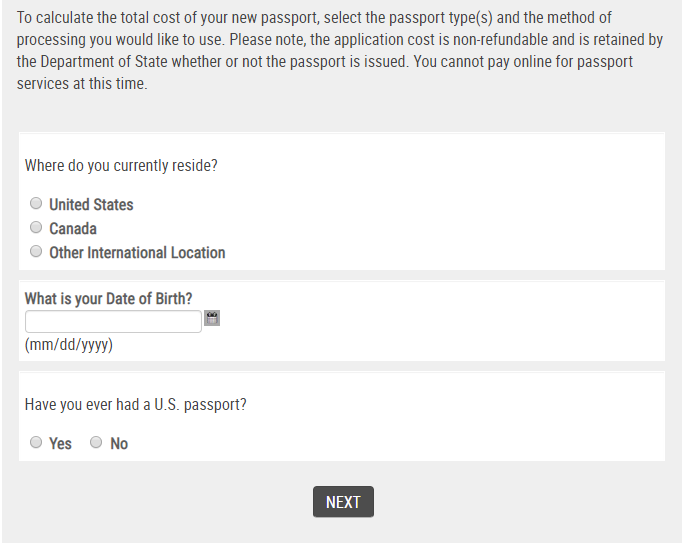 Depending on your personal situation, you may be required to pay various fees to complete your passport application. For most students, however, the total cost is around $165.

Should you need to expedite your passport processing, you can do so for an additional cost. You may also choose to purchase a passport card at the time you apply for your book. We do not recommend doing so, however, as the card does not grant the same travel privileges as the book, and can only be used to re-enter the U.S. from Mexico, Canada, the Caribbean and Bermuda.

To find out the cost of your passport application, you can check the passport fees chart linked above, or the State Department's online fee calculator.





Step 5 - Submit all required paperwork and pay processing fees.
This State Department website will allow you to search for a site to submit your application, if you must do so in person. U.S. citizens who have an expired or expiring adult passport can often apply to renew via mail. However, most students will need to appear at a local
Passport Acceptance Facility
, often a post office or library.