FAQs
Why should I study abroad?
Study abroad is an exciting educational experience that lets you gain first-hand, in-depth knowledge of another culture, experience a new educational and living environment, see the world from a new perspective, and, in many cases, develop your skills in a foreign language. Study abroad develops problem solving skills, increases independence and self-confidence, and prepares you for life in the new global environment. It is also a valuable addition to your resume or graduate school application. Students often describe their study abroad experience as "life changing" and "the most important thing I did in college."

If you are interested in other cultures and their people, and are flexible, adaptable, and willing to learn from new experiences and viewpoints, then you are a good candidate for study abroad. It is important to remember, though, that study abroad and travel are not the same thing. Study abroad is first and foremost an academic and cultural experience. The main focus of your study abroad experience should be to broaden your education by gaining an in-depth understanding of your host culture through your academic program and living environment.

Students in any major can take part in a study abroad experience, whether it's a semester-length program or shorter program during J-term or the summer.

Is it safe to study abroad?
Although there are risks associated with any form of travel, Hollins University's study abroad programs are strenuously vetted to ensure that on-the-ground resources and support are equivalent to those available to students on campus. We have carefully selected partners and host countries that are considered professional and stable.

As part of the pre-departure orientation process, students are given an overview of safety issues they should be aware of in their host country, such as pick-pocketing and street harassment, which are common concerns in any large metropolitan areas. Students are also required to enroll in STEP, the U.S. Department of State's emergency-alert system for all U.S. passport holders abroad. In addition, students will take part in a comprehensive in-country orientation program once they arrive in their host country, where safety concerns will again by addressed.
Are international students eligible to study abroad?
International students (including F-1 visa holders) are encouraged to apply for study abroad programs, though students cannot participate in any program based in their home country.
Can I talk to Hollins students who have already studied abroad?
The International Programs office hosts a variety of events throughout the academic year—information sessions, meet-and-greets, farewell socials—that give prospective applicants an opportunity to meet with returnees from all of our study abroad programs. We also sponsor the Global Ambassadors program, which tasks a select number of study abroad alumni with representing their programs at events across campus.
SELECTING A PROGRAM
Where can I study abroad?
The Hollins tradition of study abroad begins with our own program in London, which provides an opportunity to experience the city as the classroom, while preserving our university's unique campus culture. In addition, we offer more than 20 other ways to see the world (including faculty-led programs) through partnerships with other institutions and program providers on every continent but Antarctica.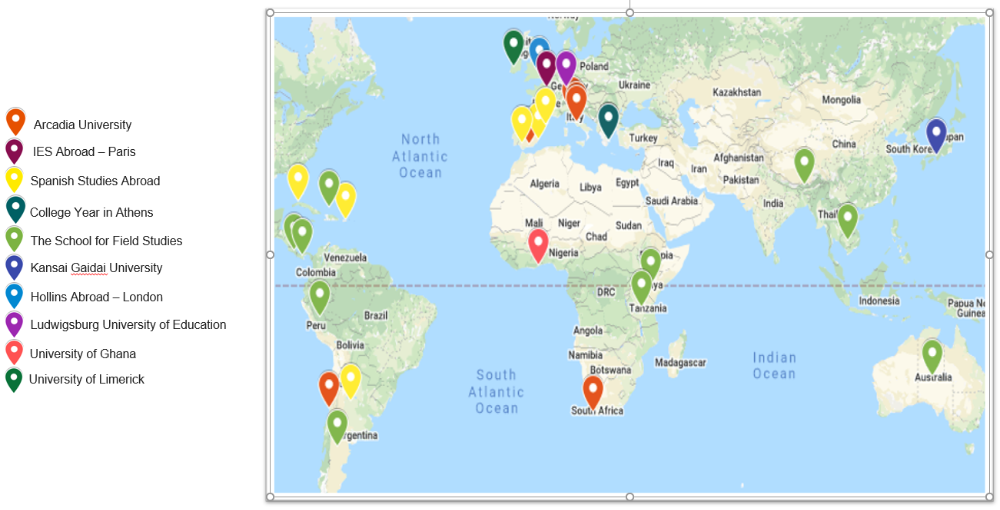 When should I start planning to study abroad?
It's never too early to begin planning for your study abroad experience. Because many students take elective courses during their study abroad programs, it can be a good idea save some perspectives (particularly MOD, PRE and AES) to fulfill those requirements while abroad.

Alternatively, some programs have unique upper-level courses which may require some pre-requisites or higher language proficiency. Your academic advisor can help you build your schedule to make space for a semester abroad and to ensure that you can take the courses that most interest you.

For more information about planning your semester abroad, check out our "How to Apply" page.

What kinds of programs are available?
We offer several different types of programs, from language-immersion opportunities with a strong focus on proficiency and language-acquisition to intensive field-research programs for STEM majors. Faculty-led and J-term programs typically run for three weeks or less during January, while semester-length programs are offered in the Fall and Spring. Most of our programs, however, have a more general focus and a wide variety of courses for all majors.
What courses can I take with Hollins' study abroad programs?
All Hollins' approved study abroad programs have a list of pre-approved courses for students to choose from. You can find this list on my.hollins on the registrar's page by clicking here. Note that when you are approved for a Hollins Abroad program, you will turn in a proposed course list that has been approved by your academic advisor.
How can I decide on a program? Which one is best for my major?
Any major can participate in any approved program, with a few exceptions. Your academic advisor and International Programs staff can help you select the best program based on your interest, your major or where in the world you want to study abroad. Decide what you most want out of a program and use that to guide your selection.
I haven't studied a foreign language. Will that prevent me from studying abroad?
Some programs—particularly language-immersion programs—have minimum proficiency requirements, but most do not. Check the eligibility requirements for each program on its page for more information about whether you would be able to apply.

What are the eligibility requirements for each program?
Minimum requirements for each program (GPA, minimum language proficiency, pre-requisites) can be found on each program's brochure page.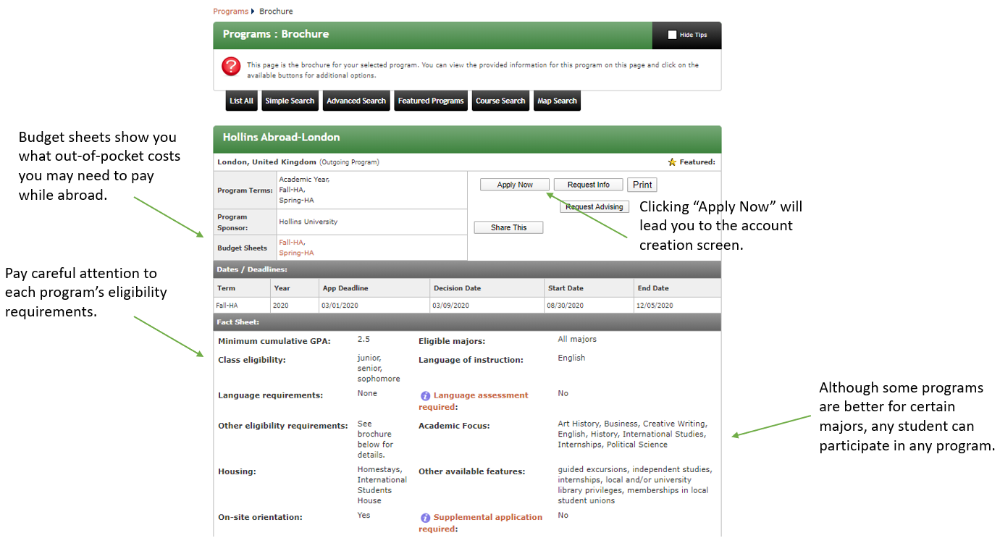 What are the housing options for each program?
Most programs offer a choice between homestay and student residence halls. Other programs may have more unique housing options, such as student apartments or shared lodging within a research center. Check housing information on your program's brochure page for more detailed information.
APPLYING TO A PROGRAM
Can I apply to two programs at once?
We limit students to one open application per semester, to ensure accurate record-keeping and to limit the number of recommendation requests our faculty receive. However, we do permit applicants to change their program of choice throughout the application process.

How long does it take for my documents (unofficial transcript, passport copy upload etc.) to be marked as received?
These documents should be uploaded into the "Attached Documents" section of your application, and can take up to seven days to be marked as received. If your documents have not been processed within a week, please email Abroad@hollins.edu.

Who should write my letters of recommendation?
Recommendation requests are sent electronically, through your application. Recommenders will complete and submit these letters using their own online portal, so there is no need to collect physical copies for your application. Recommendations must come from Hollins faculty members teaching regular academic courses. At least one recommendation should be from your academic advisor, provided that you've participated in one of their classes.

Recent transfers to Hollins may request recommendations from faculty members at their prior institution.

PREPARING TO GO ABROAD
Hollins has accepted my application to study abroad. What's next?
Once you've received your acceptance, you have one week to commit to your program of choice. There will be a link provided in your decision email that will take you to the program commitment page. All post-decision requirements (health reports, withdrawal policy, etc.) must be submitted within 14 days of acceptance to the program. A few other post-decision elements, such as flight itineraries or visa applications, may have individual deadlines, which will be communicated during pre-departure orientation.

Hollins students participating in affiliate programs will also need to submit their program of choice's application. Please be sure to check our affiliates' pages for their application deadlines.
How much does a semester abroad cost? How will my financial aid work?
A semester abroad will cost the same as a regular semester on the Hollins campus, and most financial aid will travel with you, as well. Students are billed for their typical tuition costs and for a double room; an additional study abroad administrative fee will also be assessed to your account for the semester you are abroad.

All costs associated with your semester or J-term program will be paid to the Hollins University business office, rather than directly to your program's provider.

How much should I budget for out-of-pocket costs?
Estimates for out-of-pocket costs can be found on the budget sheets for each program. Some expenses—such as visa costs and housing deposits—may not be applicable to every student.

Meal stipends or full board are provided for every student on each program.

Are there scholarships I can apply for?
The International Programs office provides travel awards for many applicants. These funds are awarded each semester based on applicants' financial need and academic merit. The travel award applications, as well as links to many external scholarships our students may be eligible for, can be found on our Financing Study Abroad page.

Additionally, students may apply for a variety of Hollins funding for experiential learning, such as the Hobbie Endowment. More details about these scholarships can be found on the My.Hollins page when applicants open.

How do I register for courses during my semester abroad?
Study abroad participants are automatically enrolled in 14 placeholder credits during their semester abroad. Specific course enrollments for each program are completed through the study abroad application; students participating in affiliate programs will likely register as part of their application process.

Even while abroad, all students must be enrolled in a minimum of 14 credits to maintain their status.
How will credits and grades work for my semester abroad?
Many foreign institutions use alternative grading scales or credit values for their courses. All grades earned by Hollins students will be converted to U.S.-standard grades and credit values based on conversion charts developed by our partner institutions.

Will I need a visa to study abroad? How can I apply for one?
Most students who go abroad will need to apply for a visa, though there are some exceptions. Your unique visa process will be outlined either by International Programs or by your affiliate program, and you will be assisted with the visa application process.
I'm an international student. Can I still apply for visas?
Nearly all international students can apply for visas in any of our available host countries. The process, difficulty, and timeline for these applications will vary based on the passport you will be traveling on. Most F-1 visa holders will be eligible to apply for their study abroad visa from the U.S., and will not need to return home to apply.
Should I purchase travel insurance? What about medical and health insurance?
Medical and health insurance policies are provided for all students participating in Hollins-approved programs. While not required, we strongly recommend securing travel insurance for your airfare, typically through the airline at time of purchase.

RETURNING HOME FROM STUDYING ABROAD
How can I submit my program/faculty evaluations?
During the final weeks of your study abroad program, you will receive an electronic survey via email. This survey will allow you to evaluate your study abroad program, your faculty, and the level of support provided to you by the International Programs staff.

What difficulties do students have re-adjusting after their semester abroad?
Students can find it challenging to return to the U.S. and begin their usual Hollins courses following a semester abroad. As impactful as it can be to immerse yourself in a new culture and environment for the first time, it can be equally disorienting to return home and experience your home country as an "outsider."

Sometimes this disconnect can cause students to experience a "reverse culture shock" while they try to reacclimate to the U.S.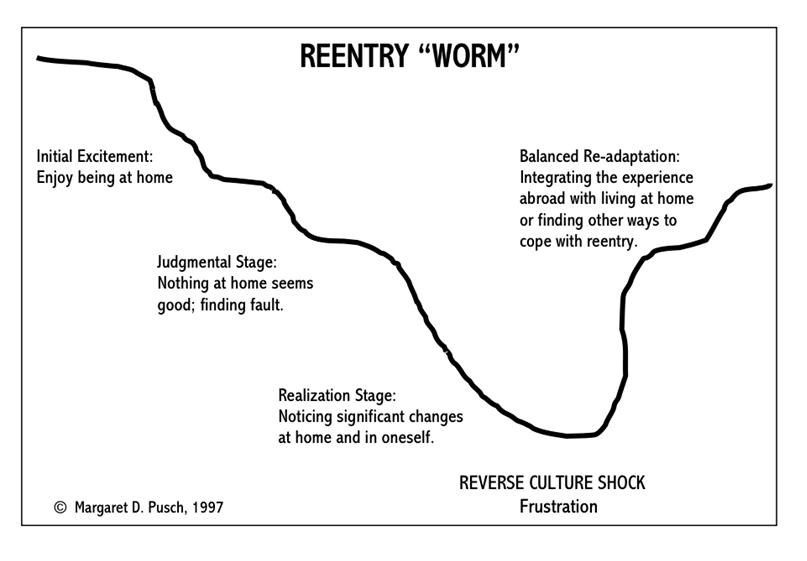 What resources are available to me after my semester abroad?
To help students cope with this reverse culture shock and to give returnees an opportunity to continue sharing their experiences from their program abroad, the International Programs office hosts a Reentry Meeting each semester. During this session, students can evaluate their study abroad programs, share particular highlights or challenges that they experienced while abroad, and get access to a variety of resources to help ease the readjustment back to the U.S.

Additionally, we offer returnees the opportunity to become Global Ambassadors, hosting events and assisting with recruitment of students for future semesters abroad.

How do I apply to be a Global Ambassador?
International Programs selects 3-4 student ambassadors each year from the prior two semesters of study abroad participants. Applications are typically emailed to these participants during April or early May, and must be completed and submitted by the end of the semester.

For more information about becoming a Global Ambassador, please visit the program page.

---